The Kickass Poker Blog returns today with a look at the scant recent developments into the allegations of cheating on over a year of web-streamed "Stones Live" poker games by Mike Postle, that has led to an ongoing lawsuit by dozens of players against Postle, alleged collaborator Justin Kuraitis, and Sacramento's Stones Gambling Hall. Though developments are scant, there is something of significant interest when one reads between the lines, with the result that the "investigation" by the cardroom announced in October looks ever more like a sham affair.
We first visited the story over a month ago with a look at how the case's trial will likely hinge on certain "smoking gun" poker hands culled from the streams. Numerous hands show Postle cheating in ways that are obvious to the experienced poker player, yet convincing a jury not necessarily comprised of poker players may be a more difficult task.
Meanwhile, the early stages of the case have already begun to drag on a bit. In late November, lawyers for the accusers and for Kuraitis, one of the defendants, agreed on an extension of time for the scheduling of an initial discovery conference, which had been slated for 2020.
A couple of weeks ago, the defendants' counsel reached a similar agreement with Kings Casino, parent company of Stones Gambling Hall. Since the same discovery process is likely to be of importance to all the defendants, there's no reason to drag Kings Casino in court once the delay for Kuraitis ha already been granted.
However, the finer details of this second extension offer curiosities. First, one of five conditions listed that by Stones' attorney is that Postle himself, alleged to be the primary cheater, had yet to be served with the initial complaint. That complaint was filed in mid-October, and it seems odd that nearly 60 days would have passed. Postle is already known to have hired an attorney, William Portanova, who has already issued a few cheesy comments on the case.
Can it be that Postle had yet to be served for nearly 60 days following the lawsuit's filing? It's technically possible — and it's for certain that Postle's attorney has yet to file a legal response — but it seems like some sort of delaying technicality has already been dropped into the works. More on this will likely come out in the near future.
Yet the most interesting piece of the Stones filing may be who signed it. It was already known that Stones was going to be represented here by the San Diego law firm Duane Morris LLP, whose lawyers include Michael L. Lipman. Lipman and Duane Morris LLP have represented Stones Gambling Hall and its owners in other matters, so it was all a bit cozy when Stones announced, back in October, that Lipman "was hired by the casino to head up the investigation."
The latest filing on behalf of Stones is signed by, you guessed it, Michael Lipman.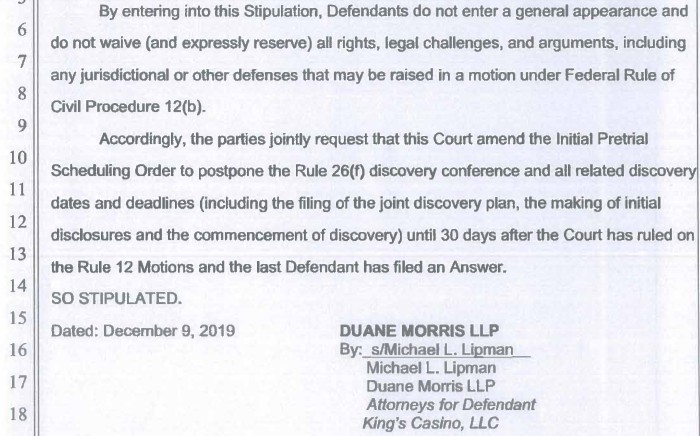 When Lipman was announced as the investigator back in October, I received some comments from California friends on what a sham the investigation was likely to be. Still, I had to allow for at least a chance for Stones and Lipman to do it right. There are various ways that this investigation could still have been done in a neutral manner, and there are legal constructs — including creating a "Chinese Wall" — that allow for some separation to be created for impartiality's sake.
However, with Lipman now directly defending Stones' interests while simultaneously leading an "investigation" trashes any such notion. Lipman's investigation hasn't offered any findings to date, but it all seems moot: any findings can't be trusted now, anyway.
It's long past time for the California Gambling Control Commission to step into this case in a more forceful and public matter than it has to date. Whatever cheating occurred, and whatever contributory negligence or fraud the Stones Gambling Hall and selected employees might have committed, it stretches beyond this case alone. California's licensed cardrooms, and there are over a hundred of them, are fighting a bitter legal turf war on several fronts. That separate battle has been going on for several years, but the Postle saga plays right into the hands of California cardrooms' opponents.
Knowing all this, Stones should have been playing everything on the up-and-up. And yet they've chosen not to.