Yesterday's victory by the talented Alex Foxen at the last major poker event of 2019, the World Tour Five Diamond Poker Classic at the Bellagio in Las Vegas, may cap major tourney play for the year, but it has also reignited debate in the poker world about whether unlimited re-entries are good for the game.
Foxen, as it turned out, fired five total $10,000-entry bullets (reports differ), busting out on all but the last, before finally amassing a stack and running all the way to the win. Foxen's triumph was worth $1,694,995, coming over a record-setting field of 1,035 total entries, over 400 of which came from rebuys.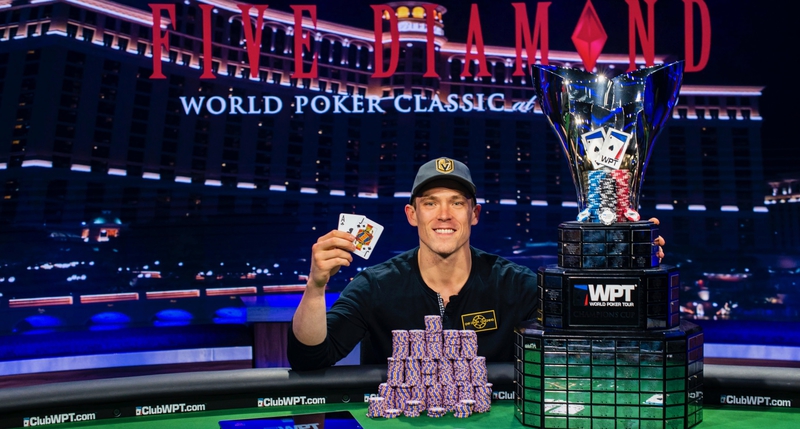 That sort of split between the numbers of initial entries and re-entries has become the norm in most poker tourneys in recent years. Freezeout tourneys such as the WSOP Main Event (to name an easy example) aren't quite an endangered species yet, but they're not that common, either. And all this serves as fodder for today's deep take.
The whole re-entry thing, whether one considers it an actual problem or not, has absolutely reshaped the poker world, both live and online. It has its supporters and detractors. Elite traveling pros largely favor unlimited re-entries, for a number of reasons. Among them:
If a pro has traveled a long distance to play in a tournament but busts early, a re-entry option gives him the chance to keep playing;
Elite pros generally have far larger poker bankrolls than so-called "weekend warriors," and the pros are thus able to properly fund themselves through multiple rebuys;
Being deep-pocketed enough to be able to rebuy numerous times also allows pros the luxury of playing more aggressively in the early levels. Casual players with lower bankrolls also tend to be more against unlimited re-entries for the same reasons elite pros are for them.
Spat goes social
In any event, it's an issue of interest for almost all tourney players. Leading the line of poker people protesting in recent days against unlimited re-entries is Norman Chad, the well-known ESPN commentator on WSOP events. Chad has been pounding on this issue quite a bit of late. When Foxen booked his multi-bullet win, Chad posted this on Twitter:
I have nothing against Alex Foxen – in fact, I once beat him in a best-of-nine arm wrestling event – but I am supposed to celebrate the fact that, after running out of chips [FOUR] TIMES in the prestigious #WPT5D, he finally built a stack the 6th time en route to winning the title?

— Norman Chad (@NormanChad) December 22, 2019
One member of the WPT poker family, prominent tournament director, soon jumped into the debate. Savage sought to make sure that people understood that it's the casinos hosting the events — in this case, the Bellagio — that have largely championed the steady shift toward unlimited re-entry events. Savage posted this:
Remember the @WPT is a partner of the @BellagioPoker and we are happy to be. @Bellagio staffs the event and decides the buy-in and registration time. #WPT5D isn't for everyone and yes it's a one of a kind tournament. 4 players at the FT that could of won were in for one buy-in. https://t.co/zK8rRfhmhh

— Matt Savage (@SavagePoker) December 22, 2019
Another of the points Savage and many others made is all but undeniable: Whatever the rules and formats are, each and every player has the option to participate… or not. Players don't have the right to demand that each and every tourney offering has a format set up to fit their personal desires, though there are a few players out there that refuse to grasp that point.
Savage also made the point that Foxen, despite firing five bullets, did nothing wrong according to the rules of this event. This is absolutely correct.
Nonetheless…
Slowing the trickle-up
Sometimes the answers to the elite-level questions can be found at the mid-stakes levels of the game. For many years, I've loved taking occasional shots in tourneys ranging from $100 to $500, but at those stakes, virtually everything is now unlimited re-entry. That means I'm not really talking about a $300 buyin; I realistically have to guard against an early bustout if I travel any distance at all to play even a small event, setting aside $600 or $900 or $1,200 or whatever. I have to do this because the formats have been tweaked such as they're not exactly meaningless, but they're designed to force all-in collisions early in an effort to build a meaningful stack.
The knowledge that a $300-buyin tourney isn't really a $300 buyin is felt by casual and occasional players in particular, and that results in slowly reduced fields. Unlimited rebuys do compensate for it by pulling more entries on average from each player, but it's a "robbing Peter to pay Paul" exercise.
From a casino's standpoint, the push toward re-entries probably makes sense as a series of business decisions. A somewhat smaller number of poker players essentially forced to be in constant action through re-entries creates a more uniform demand on the space, labor, and supplies needed to run the affair. Truly large series such as the WSOP can mask that somewhat by offering multiple, simultaneous events, but most series and tours don't have that luxury.
Devaluing performance awards
There's a secondary problem within the whole re-entry debate that's also worth exploring, especially in the wake of Foxen's WPT win. Foxen was among numerous players battling for the owner of being the Global Poker Awards' 2019 Player of the Year. By capturing the victory at the Bellagio, Foxen appears to have taken down that award as well, though final official results from the GPI won't be available for another week or two.
Would Foxen have continued firing re-entry bullets if he hadn't also been in the hunt for the prestigious GPI honor? He hasn't said publicly. Still, despite being all about the bottom line, poker players do place value on non-monetary honors as well.
There's a significant difficulty, however. All these awards, whether from the GPI or from any tour's Player of the Year honor, are invariably derived based on end results alone, instead of also factoring in the impact of re-entries. Therefore, elite players have a virtually insurmountable edge for these awards, having not only great skill, but the bankroll and willingness to rebuy again and again.
Along with the cashes, those re-entries also increase the likelihood of earning points toward those awards. And, with no malice intended toward any of my friends at the GPI and the many series and tours, it all serves to devalue the real meaning behind any of these "Best of Show" offerings.
And hey, it's not the GPI's fault, to continue with that example. The only way to fix these honor systems would be for casinos and tours to accurately report the number of re-entries for each and every player, for each and every event.
But you see, that's not going to happen. Neither the casinos nor the majority of poker players themselves want that sort of information to be available publicly, even if such data is truly the only way to determine a real Player of the Year. Instead, we're left with pale facsimiles and lots and lots of arguments.