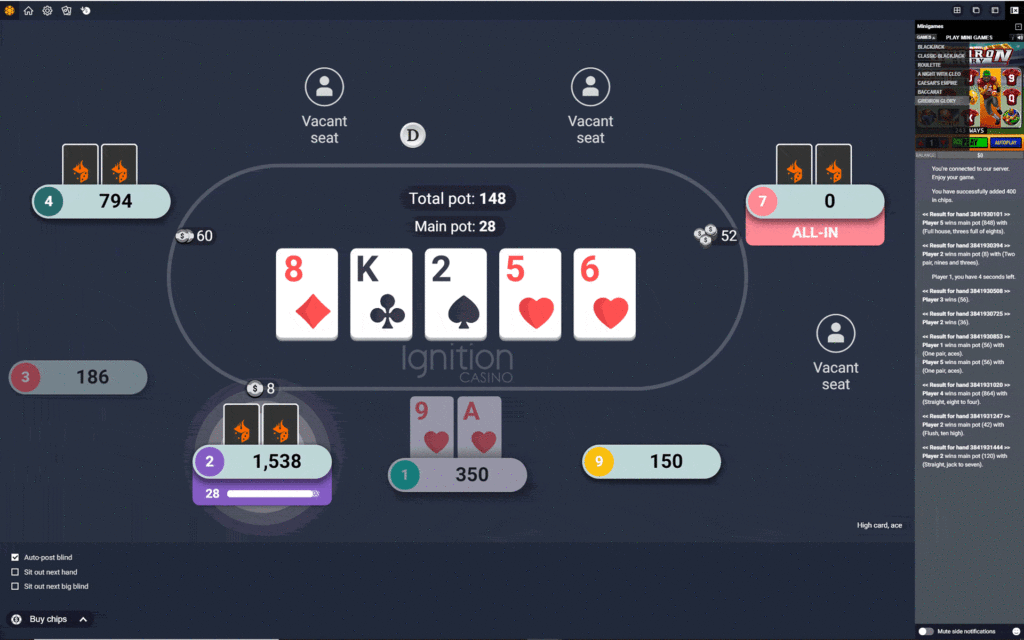 Ignition casino and poker room is the sister site to my #1 rated poker site Bovada. They have been online since only 2016 but their history goes farther back. They share the same network and player base as Bovada. The only real difference is that there are different promotions and bonus offers. You can not play on both sites at the same time as you will trigger the multi-account warning.
This is all to say that Ignition is virtually identical to Bovada in terms of playing online poker. The difference comes from a larger bonus offer here at Ignition as well as arguably better on-going promotions, specifically the weekly free roll.
Overview
| | |
| --- | --- |
| Name | Ignition Casino |
| Website | ignitioncasino.eu |
| Games | Texas Hold'em, Omaha |
| Bonus | $2500 Weekly Freeroll |
| Deposits | |
| Payouts | |
| Network | PaiWangLou |
| Online Since | 2016 |
| Software | Windows, Mac, Instant Play |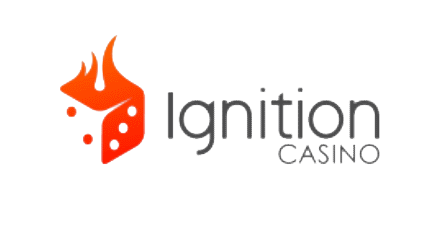 I have been working with the team behind Ignition Casino since 2004. Sometime in 2013 they invited me to one of their VIP excursions where high rollers and top affiliates went for the week to network, do business and enjoy ourselves.
We were in our morning meeting, which kicked off around 9 or so most mornings for the affiliates, the high rollers got to sleep as late as they pleased, when the 'new secret brand' was teased to the group. It was only the logo of the fire on top of the dice.
I specifically asked what the name of the brand was and was told "not a chance"… because they did not want us to outrank them in the search engines for searches for "Ignition Poker" and is "Ignition Poker Legit".
That's what we all did back then. If we knew the brand before the official launch then we could have pages already published and indexed for their brand name search. If we could have only guessed the brand… Ideas like "Fire Casino" and "Hot Dice" were passed around at the dinner table but the Ignition Poker reps there who knew the name were threatened with losing their jobs if they told us.
I for one couldn't get the name until the official launch happened, even after enjoying drinks and having long conversations with their team. Kudos to the team for keeping it a secret, at least from yours truly.
Is Ignition Poker Legit
Here's the thing about Ignition. They are the sister site of Bovada. For that reason it means that they are held to the standards and same business practices as their sister company. A black eye for one is a black eye for both. They are not but they are one in the same if you know what I'm saying. For these reasons I can overlook the relatively short lived lifespan of the Ignition Casino compared to others.
Yes, Ignition poker is legit. You will get a fair game and get the rewards, bonuses and experience you are entitled to. I feel they are legit.
Why do some 'grinders' find Ignition Poker "absurd"?
They do things in a way that many regular grinders find "absurd" and "out of touch". One of the main things is having only the limited chat options where you can only click on emoji's or things like 'zzzzzzz'. This is done to discourage the grinders and discourage the professionals. Ignition does this to cater to the recreational poker players. These are the valuable members of the poker ecosystem. I won't go into huge detail about the underlying philosophy on this Ignition review but suffice to say they are trying to be as friendly to us recreational gamblers as possible. You can hear some of the grinders complaining about them here after their latest software update.
Pros & Cons
Strong promotions
Anonymous poker
Shared player pool with Bovada
Limited chat options
No sportsbook
How to use Bitcoin on Ignition
Ignition really wants you to get on the crypto bandwagon. So much so that they are offering bigger deposit bonuses if you use bitcoin to make your first deposit. You can snag a pretty significant 25% increase in your bonus amount just for using bitcoin as your deposit method.
You get a 125% bonus to deposit with bitcoin for poker compared to a 100% bonus if you use credit card.
I've detailed a newbies guide to bitcoin for gambling you can read to get all set up with your very first crypto.
I go over ways to buy it and which wallets are best for poker playing. I recommend a free wallet that is open source and where you own your keys.
Step By Step Bitcoin How-To
Once you have your own bitcoin held in your own wallet you are ready to make a deposit at Ignition.
Open Your Ignition Account and go to the Cashier > Bitcoin
Open your bitcoin wallet and go to > send
Scan the QR code or copy / paste the bitcoin receive address from within your Ignition cashier
Choose how much bitcoin to send and confirm the send.
Within moments to minutes your account will be funded on Ignition
Your bitcoin is converted to a $USD chip balance at the time of deposit using the current market rate of Bitcoin
When you cash out your $USD valued chips are converted back into Bitcoin at the market rate and sent back to your private bitcoin wallet.
Screenshots
Additional Ignition Poker Info
Includes a casino (but not a sportsbook)
Shares a player base with Bovada
Accepts players from all US states except those that are regulated
Arguably better promotions than sister site Bovada, especially the weekly $2500 freeroll you can qualify for, bigger deposit bonus and more or less the same other than that.