Later this week, a day of reckoning will arrive for Shahram "Shawn" Sheikhan, one of numerous poker players who gained a measure of fame during the heyday of televised poker during the 2000s. Sheikhan has had a small number of skirmishes with the law, and he's been back in court a bit over the past two or three years for his role as the co-owner/operator of an illicit marijuana operation near San Diego that technically could land "Sheiky" in a federal pen for up to four decades, though that's unlikely for numerous reasons.
Still, it seems likely that Sheikhan will end up serving some time in a case that includes a look at America's changing and relaxing attitudes toward marijuana use. Add in a situation involving the patchwork quilt of local, state, and federal laws regarding what was once a rigid line against any and all pot-related activity across the US, and Sheikhan's case presents an interesting nexus of the state of marijuana laws in our country.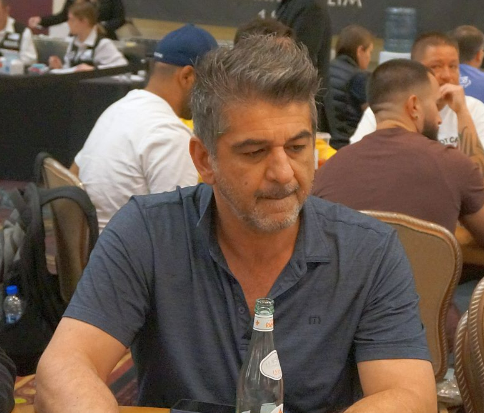 In June of 2022, Sheikhan and a co-defendant, Sabriana Williams, pled guilty to operating an illegal marijuana dispensary outside San Diego called Cannaland. The pair started the business in 2019, and Cannaland operated jointly as a public-facing cannabis dispensary and as a distributor of pot products to other dispensaries in southern California.
Cannaland operation never licensed by state or local agencies
The problem, however, was that neither Cannaland nor many of the other dispensaries it served were legal. Pot usage is fully legal in California, and marijuana dispensaries are legal, too, provided they are approved by local and/or county jurisdictions. Cannaland failed the second part of that test, having been opened in an unincorporated part of San Diego County where the sale of marijuana products had never been approved. Some of the dispensaries Cannaland served also operated outside of local approval, according to a press statement issued by the U.S. Attorney's Office for the Southern District of California in conjunction with Sheikhan's and Williams's guilty pleas.
The feds were part of the case as well, as the USAO release indicates for those with a sharp eye. Marijuana sales of any sort remain illegal under federal law, even in states where pot sales and usage have been decriminalized.
However, even in a pot-legal state, dispensaries have to be licensed and registered, and Sheikhan's Cannaland operation never was. That led to a combined investigation launched by local San Diego County authorities and the federal FBI.
The initial raid on Cannaland occurred in April of 2021, and the combined authorities made quite the haul. Seized items included over 3,000 pounds of marijuana with a cited street value of more than $6 million. Authorities also seized five firearms found on the premises — four handguns and one shotgun (pictured above).
The 3,000 pounds wasn't close to Cannaland's career inventory. As part of their plea deals, Sheikhan and Williams admitted to having distributed more than 3,000 kilograms, or more than 6,600 pounds, of pot to various southern-California dispensaries.
Big score for the feds and the San Diego County fuzz. Bad news for Sheiky. And not the first time he's been in significant trouble.
Sheikhan immigrated to US during childhood
There's no indication that Sheikhan ever suffered from a truly broken childhood, though his parents, separately, relocated their family from Iran to the US amid the post-Shah years in Iran. Sheikhan's father, Parvis, was once a high-ranking military officer and judge, and in his defense counsel's pre-sentencing brief, state that the elder Sheikhan was almost captured and killed before escaping to the US.
Sheikhan, that pre-sentencing filing notes, displayed an "entreprenurial spirit" from an early age. That later served as the root of his income, when he launched a small chain of "tattoo and smoke shops" scattered around Las Vegas. Sheikhan owned as many as seven of the Diversity Tattoo and Smoke shops, two of which are still in operation.
Tattoos and smoke funded Sheiky's poker career
According to that pre-sentencing filing, Sheikhan had an interest in card games from an early age, derived from watching his parents play with guests at the family home.
Later, profits from the shops helped fund Sheikhan's poker career, which probably reached its pinnacle of fame when he sparred and jawed with Mike "The Mouth" Matusow throughout the later stages of the 2005 WSOP Main Event. Both Sheikhan and Matusow had well-deseved reputations as trash talkers on the felt, and when both of them went on to make that year's final two tables, fireworks ensued.
Sheikhan finally bowed out in 11th position, just two spots before Matusow exited the event in ninth on one of the Main Event's most famous final-table coolers. Matusow was already a multiple-bracelet winner and his fame on the Vegas poker scene was well established, but Sheikhan was a newer face for the poker public's consumption.
Sheikhan and Matusow reunited on one of the WPT's themed episodes, dubbed the "Bad Boys of Poker," though Sheikhan's fame dwindled when he failed to land other big scores. He was still widely known, of course, and he has continued to play occasional events at the WSOP.
Sexual battery conviction dates from 1990s
Sheikhan's past is checkered. In 1995, he was convicted of misdemeanor sexual battery of a child in a case that would cause him troubles over a decade later. The case involved a 17-year-old girl with whom Sheikhan, then in his mid-20s, had some form of relationship. In the recent pre-sentencing filing, Sheikhan's counsel noted the existence of the prior conviction, but due to its age (nearly three decades in his past) and to it being adjudicated as a misdemeanor, it no longer counts as an enhancing factor regarding Sheikhan's sentencing guidelines in the Cannaland case.
That's not to say the case didn't cause Sheikhan a ton of problems. In 2007, the US's Immigration Customs and Enforcement (ICE) agency arrested Sheikhan and tried to deport him. Since Sheikhan's 1995 crime was sexual in nature and was committed against an underaged victim, he fell into ICE's searches for foreign nationals who had committed crimes with sexual trappings against minors. (Sheikhan did serve nine months in prison and was on probation for another five years in the 1995 matter, so it was a significant misdemeanor, to carefully parse a phrase.)
Sheikhan, though, riding his poker high, was able to afford the best legal defense in Vegas, meaning the high-profile firm of Chesnoff & Schonfeld. Sheikhan not only won bail, he ultimately defeated the deportation filing launched against him. In 2017, Sheikhan also became a naturalized US citizen, eliminating the threat of that old case somehow reemerging in a similar legal proceeding.
There may have been one other untoward incident involving Sheikhan at a prominent Vegas casino in the mid-2000s, also at the height of his poker fame, but that incident never resulted in any charges, and it has faded from the internet over the intervening years. In legal terms, that other maybe-incident also doesn't count for the upcoming sentence.
Downward variance recommended by both sides
Both the prosecution and the defense advised to the court that Sheikhan doesn't deserve anything near the 40-year term that's still technically possible. There are multiple factors, including that with the elimination of the old 1995 case, Sheikhan has never been convicted of any sort of violation crime.
He also pled guilty and cooperated with authorities once it became clear that his Cannaland operation was finished. That happened not in 2021, when the dispensary was initially raided, but over a year later, when he and Williams were formally indicted.
There's still a significant difference between the prosecutors' and defense's preferred sentences. The prosecution has argued for a 96-month, or eight-year, sentence. Chesnoff and Schonfeld, again representing Sheiky, argue that his remorse, cooperation, and society's relaxing attitudes toward marijuana matters justify nothing more than probation, drug testing and other post-conviction conditions.
Mori Eskandani appears among Sheikhan's character references
The polished 33-page filing from Chesnoff and Schonfeld also includes a number of quality character references. Family members and friends make up the bulk of the references, with the friends including an Iranian-American gynecologist who praised Sheikhan's freely giving nature, as did a retired police officer who offered similar high platitudes.
One poker figure of note appears among those references, and that's Poker PROductions head and Poker Hall of Fame member Mori Eskandari. Eskandani, like Sheikhan, has an Iranian heritage, and the two have a long friendship. Eskandani played a role in having Sheikhan approved as one of the "Bad Boys of Poker" WPT episode, too.
The Chesnoff and Schonfeld defense brief can't quite make Sheikhan into a saint, but it does a more-than-passable job of portraying Sheiky as a well-meaning family man who's just made a few mistakes in the pursuit of a better life for himself and his family. Shiekhan's daughter, Tatijana, is mentioned several times as being the love of Sheikhan's life and the recipient of his efforts, legal and otherwise, and in a bit of irony, she's now pursuing a law degree herself.
Red herrings appear in defense brief
As one would expect, the efforts of Sheikhan's high-priced defense resulted in the very smooth glossing over of some of his bad-boy exploits. That 1995 battery case isn't the only example.
The matter of the firearms falls into that category as well. The presence of the guns is another possible enhancing factor for the judge to consider, and it's one that the latest Chesnoff and Schonfeld filing formally disputes. The filing waxes long about how Cannaland's armed security guards, the purported owners of the guns, were fully trained and state-licensed and were obtained through a third-party agency. The filing even includes the licensing paperwork for two Cannaland guards among its appendices.
The seeming intent is to convince the court that Sheikhan's involvement with the weapons was minimal or non-existent, and that the possible weapons enhancement should be disregarded. That's countered by the prosecution, however, which in its 2022 press statement on Sheikhan's guilty plea, noted, "Following the [execution of the] search warrant, Sheikhan and Williams personally coordinated and facilitated the procurement of replacement firearms for the business' armed security guards and continued to operate their business and distribute vast amounts of marijuana."
The defense filing also spends a couple of pages promoting Sheikhan's 30-year poker career and lauding a handful of his biggest successes on the felt. That seems quizzical, however. Chesnoff and Schonfeld are prominent Las Vegas attorneys, and Sheikhan's poker fame and persona might play well in a Vegas court, but in San Diego? It's likely that that court will be somewhat less impressed.
All those factors make it appear unlikely that Sheikhan will leave the courtroom a free man, in this writer's opinion. It's still also likely that he'll receive a sentence less than the eight years asked for by the USAO. Perhaps a three- to five-year sentence might be the sweet spot in a complicated matter such as this. Sheikhan as a person has both significant plusses and minuses, and how that all plays out will be determined in the coming days.