It's not surprising that the Covid-induced, 10-way chop in the Bay 101 Shooting Star main event has turned out to be an important happening in the poker world. It was the last major poker event to be played in the United States before American casinos began shuttering en masse around three weeks ago.
Still, many rumors and speculation connected to the Covid-19 breakout and its potential impact at San Jose's Bay 101 and across the United States' economy were everywhere, including among players and some staff at Bay 101. Much of the rumor-mongering centered on an unnamed high-stakes poker who was alleged to have played while sick (possibly with the coronavirus) at Bay 101 just prior to the start of the Shooting Star series.
Those rumors included such potential details as the unnamed player being ordered to self-quarantine, but having possibly infected a food server at a Bay 101 restaurant, where he dined. It turns out those rumors have some legs, but were intermingled in some minds with the accelerated finish of the Shooting Star main event a handful of days later.
Much of the chatter reemerged in the wake of the Shooting Star's lead tournament director, Matt Savage, publishing a 2,000-word blog on that main event's strange ending. Savage's blog was very heartfelt, but in the eyes of many (including me, to be honest about it) was viewed as being perhaps a little too rosy. Everyone can agree, however, that the entire episode was an extreme and unusual occurrence.
In that vein, though, it's time to add to a few things to Matt's timeline. The rumors about the sick player were probably true, and an unidentified food server at Bay 101's "Province" eatery indeed likely took ill, then later tested positive for Covid-19.
Bay 101 closed on March 13, 2020, and the weird 10-way chop — among players who would never chop that many ways otherwise — was some of the last gambling action in the casino. However, Bay 101 management received news of the food server's positive Covid-19 test later. This writer has received a screen-grabbed image of an e-mail sent out by Bay 101 management, then leaked to others: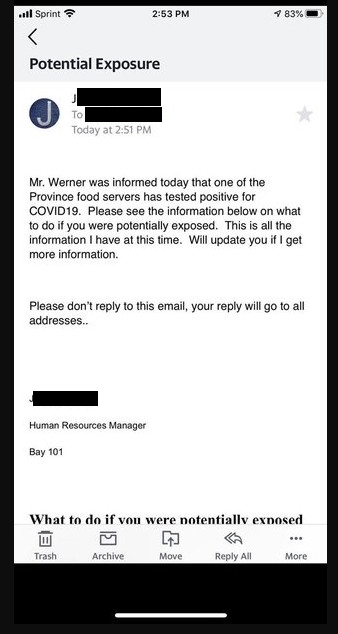 This writer has since obtained the same email from alternate channels, virtually assuring its authenticity. I've also obtained information showing that the email was sent on March 19, 2020, nearly a week after Shooting Star concluded.
Given that the cardroom had already been closed for more than six days, the timing might seem odd… until one remembers how slowly testing was done in the outbreak's earliest weeks. Not only were tests widely unavailable, there was an even larger bottleneck due to there only being two commercial labs in the US able to process the tests. Getting results took a ridiculous five to twelve days, and many swabs expired without even being tested.
Back to Bay 101 and the swirling rumors. There are actually three separate groups: the players, the Bay 101 staff and management, and Savage's third-party tournament-director operation. Rumors likely abounded about the sick player and restaurant worker, and from what's been relayed, Bay 101's in-house dealers were part of that.
However, knowledge about the sick employee's Covid testing would have been held more closely by Bay 101 management. There's not much chance that that management would have spared medical specifics with third-party contractors or outside business partners, and the March 19 date on the email rules it out anyway.
In a vacuum, one can raise the possibility that Bay 101 or even Savage himself allowed play to continue when a positive Covid test emerged. However, the facts don't bear that out at all. Neither Savage nor the WPT would have known anything more than the same rumors that the players were hearing.
Still, the pandemic's growth was known to everyone by the time the Shooting Star main event began, something perhaps worth debating another time. As it turned out, it's possible Bay 101 received a report from the affected employee that he or she was presumptively positive, and the knowledge influenced the cardroom's decision to close when it did. Savage has posted on social media that he had no actual decision-making role in the Shooting Star's accelerated schedule, and that holds up as well.
It also turns out Bay 101 was indeed the first Cali cardroom to close, as Savage claimed. Bay 101 went on hiatus, a few hours ahead of Commerce, where a positive Covid-19 test made the headlines just earlier. (A few rooms and casinos in other states closed previously.) By contrast, the Bay 101 employee's positive coronavirus test never made any sort of news before becoming part of this interesting tale.