Separate filings in two poker-cheating lawsuits allege Postle has been gaming the legal system to muddy up the two processes.
There's been quite a bit of news in recent days in the two lawsuits involving alleged poker cheat Mike Postle, the focal point of an ongoing firestorm that's unlikely to go away any time soon. Last week, in separate filings made in cases in both California and Nevada, Maurice "Mac" VerStandig, who represents the allegedly cheated poker players, has filed motions having to do with Postle's recalcitrance to date.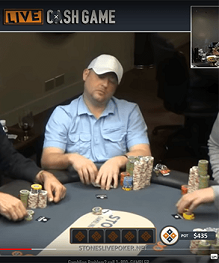 First, there's one of the latest developments in the California lawsuit. That's the larger one as the numbers go, where VerStandig's legal team represents 88 former participants in their lawsuit targeting Postle, Sacramento's Stones Gambling Hall, and Stones employee Justin Kuraitis, who controlled the operation of the "Stones Live!" live-streamed cash games where Postle's alleged cheating occurred.
According to a motion filed last week by VerStandig in Sacramento, Postle appears to be aided by professional legal help despite continuing to claim that he is a per se (self-representing) defendant. It's related to the issue first published here at Kickass Poker a few weeks back, when Postle filed his initial defense response.
Except, as was evident from the start, the filing was submitted to the court by William Portanova, the same Sacramento-based criminal defense attorney who had spoken to Cali media outlets on Postle's behalf when news of the $10 million lawsuit first broke last fall. The initial defense filing was a sloppy mess all around — it's hard to say whether Postle or Portanova did a better job of fucking things up — and it took a few days to figure out exactly who was involved and what they were supposedly doing. Postle ended up filing a revised initial defense response a few days later, this time faxed in to the court system by his mom, Rose Postle, who also lives in greater Sacramento.
Yet the fact that Portanova had prepared the legal filing on Postle's behalf was pretty damn clear. I'd bet a hundy that when Postle's buddy Evert Caldwell first published Postle's defense filing on Caldwell's crappy RounderLife site, neither Caldwell nor Postle realized they were actually outing Portanova's involvement by forgetting to strip out the final page, where Portanova signed as the filing agent. Given that the text of the Postle filing was borrowed in large part from another Portanova case — and I'd already determined that — the proverbial cat was going to be out of the bag anyway. The hamhandedness just made it obvious.
However, lying about being a true per se litigant is a rather larger deal than a casual observer might realize. Courts frown upon pro lawyers hiding behind the scenes in such ways, because it can affect disclosure and discovery throughout the trial in ways that impinge upon plaintiff's rights. That's the basis for the California filing, wherein VerStandig asks the Court to impose non-monetary sanctions for essentially lying about the whole "per se" thing.
VerStandig wrote, "As discussed in greater detail infra, Mr. Postle is actively violating the Federal Rules of Civil Procedure and governing case law, while his ghostwriter(s) violate the Local Rules of this Honorable Court, through Mr. Postle's signing and filing of documents he has not himself authored. Circumstantial evidence suggests Mr. Postle to be appearing herein through the efforts of William Portanova ("Mr. Portanova"), a well-respected local attorney. Regardless, though, of whether Mr. Portanova is Mr. Postle's ghostwriter or some other person or combination of persons are tending to Mr. Postle's legal work, it is apparent Mr. Postle is being aided by an undisclosed attorney."
VerStandig went on to note the clean and very professional appearance of Postle's filings, which were far, far beyond what a poker player with no law education ought to be able to accomplish on his own. Of course, VerStandig was able to buttress that by showing the similarities of Postle's filing to that other Portanova case. There are only two possibilities: Either Portanova did the filing, or, perhaps just a tad less likely, Postle stole a copy of the other case out of a garbage can at Portanova's office and retyped the whole thing in himself.
The majority of VerStandig's motion then supplies the requisite case law to support the request for sanctions. Those are specified at the end of the document:
"[T]he Plaintiffs respectfully pray this Honorable Court (i) strike all filings of Mr. Postle heretofore filed in this case, save for stipulations co-signed by counsel for other parties herein; (ii) direct Mr. Postle to either have his counsel notice an appearance in this case,
or to personally file a notice of intent to proceed pro se, within three (3) days; and (iii) afford
such other and further relief as may be just and proper."
In other words, "Stop Postle from dicking around." If granted, the motion will force Postle either to name Portanova or another lawyer as his official defense attorney, and that in turn will clean up the works that Postle, to date, has spent considerable effort trying to gum up.
Nevada deja vu on service dodging claims
Which brings us over the Nevada portion of this tale. Readers familiar with the Postle's unfolding legal saga might remember that in the California case, roughly two months were wasted while plaintiffs' counsel (VerStandig) exhausted several channels in attempting to serve formal notice of the civil lawsuit upon Postle.
It's legal process and all that: the case cannot move forward until all parties have been officially and legally summoned. However, Postle just couldn't be found. First, VerStandig retained a Sacramento process server, who made at least six separate attempts to serve Postle in December and early January. Then VerStandig himself tried to serve Postle, though that didn't work either; in a separate court filing, VerStandig recounts seeing a figure he believed to be Postle inside Postle's home (visible through a window), but Postle wouldn't come to the door, despite eight minutes (!) of knocking and doorbell-ringing by VerStandig.
Well, guess what? In the second lawsuit against Postle, this one brought by Las Vegas poker player Marle Cordeiro, it's the same thing all over again. Postle just can't seem to be located to be given that necessary legal notice.
VerStandig used the same process server as in the California case, but with the same results. In this instance, the server made nine separate service attempts on Postle, most of them at Postle's known residence in Antelope, a Sacramento suburb. Postle's car was never there, though on some of the trips, the garage door was open. No one answered the process server's knocks.
Sound familiar? Don't forget that all this is occurring during a pandemic, when California's citizenry is subject to widespread stay-at-home orders. The service attempts were made at all hours of the day, and Postle's normal "gig", playing live poker, isn't running right now. Postle also has parenting duties which have likely increased during this pandemic.
But he's never, ever home? Sure. It's quite likely that he has his car stashed in the garage of a nearby friend or neighbor, and the old "leaving the garage door open" trick is being used. Delay, delay, delay.
In the end it won't matter; Postle will have to accept service in this case, filed in Las Vegas, just as he finally had to in the case filed in Sacramento. Postle's desire to delay is likely magnified by the fact that the case was indeed brought in Nevada by Cordeiro and VerStandig. In fact, that's even a part of the claim being made, that Postle "recruited" Cordeiro via electronic means (phone or email) to come play in the "Stones Live!" games. Given that the session Cordeiro played in was the 68th and last of the cash games in which Postle's cheating was alleged to have occurred, this means that the invitation to participate extended across state lines to Cordeiro occurred while the cheating system was in place, already being used to swindle other players.
That's going to be a dicey one for Postle to defend, in addition to all the long-distance expense. It's precisely the "invitation" nature of the claims that allows Cordeiro and VerStandig to bring the separate case in Nevada, rather than be plaintiff #89 in the Nevada matter.
Given Postle's invisible-man routine, VerStandig's motion on Cordeiro's behalf asks the court to approve four alternate means of official service of summons. One is to send the summons via FedEx, which creates a receipt of delivery. Two others are to send the summons to both of two e-mail addresses known to be utilized by Postle; both of those figured into exhibits previously published here. The fourth method of delivery VerStandig seeks to have approved is via transmission to Postle's Twitter address, @mike_postle. Postle doesn't post on Twitter these days, but he does monitor the account at leas on occasion, and can be shown to have used it to communicate with others.
In the meantime, the games continue. Postle can delay the process, but he cannot stop it. He'll be served with notice of the Nevada case just as he was finally forced to accept notification in the larger California matter. One interesting question is whether he might consider ignoring the Nevada lawsuit altogether, which might bring a summary judgment against him in rather short order.