Mike Postle, the California poker pro who was sued by nearly 90 other players for allegedly cheating during dozens of livestreamed cash games at Sacramento's Stones Gambling Hall, has been granted a second continuance in his $330 million defamation lawsuit against a dozen of his most prominent public accusers.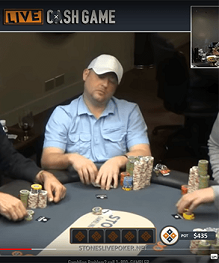 Postle received a 33-day continuation until April 20, 2021, in a brief hearing held before California Superior Court 53/53 Judge Shama H. Mesiwala. The judge foretold her intent in a preliminary ruling issued on Wednesday, in which she promised the likelihood of granting a second continuation rather than resorting to the "drastic remedy of granting [the] anti-SLAPP motion" filed by one of the defendants, Todd Witteles.
Judge Mesiwala, however, noted her expectations that Postle would quickly retain new counsel after his prior attorney filed to be (and was) excused from the case a couple of months ago. That hadn't happened, and it remained one of the primary claims made by Postle for another continuation. "I was hoping… the four of you," meaning Postle, still representing himself per se, and three attending attorneys for defendants Veronica Brill and Witteles, "wouldn't have to appear today because you would meet and conferred so we could get a date on this calendar and continue."
Under questioning from the judge, Postle indicated that he still had not hired counsel. "I plan to have someone secured within the next couple weeks," he stated. "A lot of challenges recently; I won't go through all that at this time. In talking to them, they had informed me that, due to the complexity and what's needed, they would like to have 120 days to be able to properly be prepared and do what's needed."
Judge Mesiwala noted that the defendants' attorneys would never accept anything another 120-day delay, and she asked whether Postle had actually begun negotiations with specific counsel. Postle hedged a bit on his answer, noting that he had talked with an unspecified "they" who had said they would inform him next week if they would take his case. Postle then added, "They said 90 days would put some strain on them… but 90 days would be doable."
Postle then claimed he'd almost reached an agreement with the defense attorneys for either a 90- or 60-day continuance, but Judge Mesiwala cut him short. "It's pretty rare that you can come to court and just ask for a continuance. It's usually done on what we call an ex parte calendar. So even the fact that I'm entertaining this now is pretty unusual." The judge again cited that part of the reason for her consideration was that granting Brill's anti-SLAPP motion was again a "draconian" measure. (Granting the anti-SLAPP motion would likely end the case.)
When Judge Mesiwala turned her questioning to Eric Benzamochan, the counsel for another plaintiff, Todd Witteles. Benzamochan noted the delays attributed to Postle's failure to find replacement counsel, which had been an issue since December. Benzomachan allowed that a 30- to 45-day continuances might be acceptable, given Postle's per se status, but in his words, "Even that is generous."
One of Brill's attorneys, Marc Randazza, then noted for the judge that California law makes it mandatory for an anti-SLAPP motion to be heard within 30 days of its being filed, and that the defendants' counsel had already been gracious in granting the first extension. Randazza then questioned the judge's hesitancy: "I hear your honor saying it's a draconian remedy, but it's also draconian for these defendants to be facing a $300 million lawsuit that they have a statutory right to have heard — to have dismissed, or at least have their anti-SLAPP motion heard — within 30 days. We filed on January 14th, and we had the original hearing set for February 11th. We agreed to 30 days, but not more."
Randazza added more in his opposition, saying, "Mr. Postle says he cannot find counsel, but he has managed to retain a public relations firm." Moments later, Randazza claimed, "This complaint was filed as a public relations stunt."
At that point, Judge Mesiwala intervened, noting the "equities" on both sides while also stating, "I also understand that in some sense Mr. Postle has gotten himself into the predicament that he finds himself. Nonetheless, she quickly brought the disagreement to a close, dictating an approximate 30-day continuation, then extending that to 33 days and to 1:30pm on April 20 after conferring with her court clerk.
The reference to a public relations firm having been retained by Postle bears further note. In his filing for a second continuance, Postle stated he "has just retained an organization specializing in internet based First Amendment and defamation issues…" The PR hiring was referenced in a Tweet on March 17 Veronica Brill:
The HONR Network was founded in 2014 by Lenny Pozner, the father of one of the children killed in the Sandy Hook massacre. The organization was founded to counter the wild and false conspiracy theories about the massacre that were floated, largely online, by Alex Jones and his ilk. Whatever advocacy — paid or unpaid — that the group might offer on Postle's behalf remains to be seen, though if true, the retainer itself does speak to Benzamochan's claim that the lawsuit has publicity-stunt elements.
When the case might progress to an actually trial (or be dismissed) remains hazy. The case was technically still in its discovery phase, and that will now certainly be extended.