It's been a while since there's been news connected to Mike Postle, the Mississippi-born and California-residing poker player who was sued by 86 other players for allegedly cheating during dozens of live-streamed episodes of "Stones Live!" cash games. After being dismissed from that lawsuit on a California gambling-laws technicality, Postle turned the tables and filed a $330 million defamation lawsuit against some of the leading industry voices who spoke out against the alleged cheating.
This week, two new storylines emerged. First came the news that Postle's own counsel has filed a motion to be removed as his counsel in the case. That's a strange occurrence. Normally, attorneys ask to leave or are booted from the defense side over accusations of inadequacy. Not here, though; gaming attorney Maurice "Mac" VerStandig, who represented other players in the civil cases brought against Postle in California and Nevada, dropped this gem via Twitter while offering no additional comment: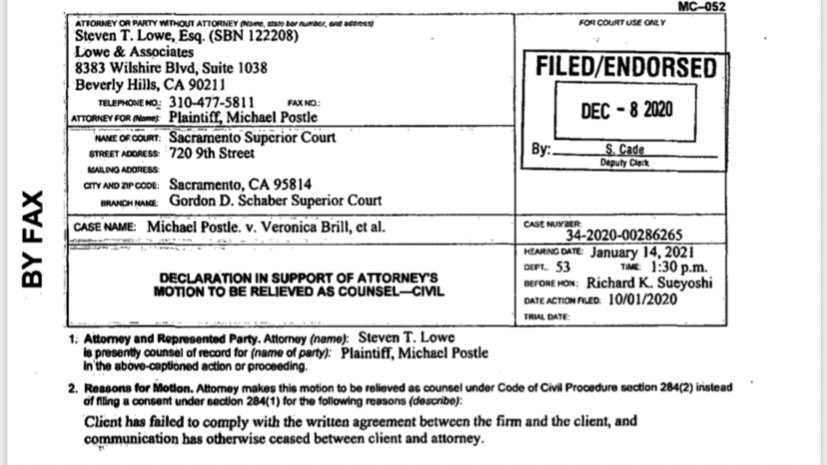 The kicker is that note at the bottom: "Client [Postle] has failed to comply with the written agreement between the firm and the client, and communication has otherwise ceased between the client and attorney."
It can't be overstated how unusual that is. If I was a plaintiff in a $330M lawsuit and legitimately expected that sort of payday, I'd have my attorney's phone number on speed dial.
The matter about Postle's attorney — Stephen T. Lowe, of a boutique Los Angeles law firm — won't be formally heard until a hearing in mid-January. Meanwhile, one can safely presume that all work on the case from the plaintiff's side has ceased until further notice.
It also raises the question of what's happening with that "explosive documentary" about Postle and the cheating allegations that was announced in September, just a couple of weeks prior to the filing of the libel case. The film, supposedly being produced by 25/7 Productions' Dave Broome, promised to "shock the world". One other promise that seems to have gone nowhere, though it could have emerged in either the lawsuit or the documentary, were claims from what can loosely be described as the Postle camp as a thorough evaluation of all the hands played by Postle during those live-streamed cash games that will collectively prove his innocence. I personally don't believe such an evaluation will ever appear, though I continue to hope and wait.
Meanwhile, at least one of the defendants in Postle's libel lawsuit has grown a bit tired of waiting himself. Just after the news of Postle's lawyer attempting to dump him broke, one of the libel lawsuit's 12 plaintiffs, Todd Witteles, announced that he would be filing an "anti-SLAPP" claim against Postle for infringing against Witteles' free-speech rights. Witteles, a one-time WSOP bracelet winner, is well known as being the owner and operator of the PokerFraudAlert forums, a free-speech-oriented site that allows discussion on all sorts of topics, poker-related and otherwise.
An anti-SLAPP (strategic lawsuit against public participation) motion is intended to fight back against the filing of frivolous lawsuits by making said filer financially responsible for wasting the time and resources of a case's defendants. In the pending motion, Witteles and his attorney note that several important factors, such as commentary on such a case being a public and First Amendment right, and Postle having become a "public figure" through the progress of the cheating accusations and associated cases. The alleged cheating was famously featured during an ESPN SportsCenter segment featuring host Scott Van Pelt, and ESPN is another of the case's 12 defendants, as are PokerNews (iBus Media), Joey Ingram, Daniel Negreanu, original whistleblower Veronice Brill, and several others.
Most of the defendants, excepting Brill and perhaps Witteles, are deep-pocketed entities or wealthy poker people who might possibly be induced to settle out of court, if indeed Postle and his counsel could make some sort of legitimate case. But that appears less and less likely to happen.
In commented about his pending anti-SLAPP filing, Witteles noted that despite being notified of the suit in the first days of October, he still hasn't even been served with a copy of the specific complaints made against him, nor (to the best of his knowledge) have any of the other 11 defendants been similarly served. If true, it makes the filing of the case look less like a legitimate beef and more like a publicity stunt designed to serve other purposes. It may even bring into play a legal doctrine called "failure to prosecute," which would be crushing for Postle's prospects.
One of the tenets of a libel/slander/defamation case is that so-called "public figures" are afforded far less legal protection in the eyes of the law. The reason for that is to not chill civil discourse. Witteles' anti-SLAPP motion notes that Postle not only easily meets the public-figure standard, he has at times promoted himself as well. The pending Witteles motion mentions Postle's appearance on Mike Matusow's "The Mouthpiece" podcast, yet it could easily add in the whole documentary project as well. Perhaps one day the public will learn how all these pieces fit together.
The filing of the anti-SLAPP motion is more than just a means to protect one's civil rights. It also creates an avenue to cover court costs, if (as seems likely) Witteles and the other defendants prevail. Witteles' motion is set for a February hearing, if it's not pushed back by the pending job opening for a new Postle lawyer. The coming months, though, promise more developments in this unique and interesting case.