This week, with pandemic-related "social distancing" rules continuing to significantly impact the live-poker world, the Caesars-owned World Series of Poker officially announced an 85-event Online 2020 WSOP to be held beginning July 1st. The electrons had barely been sent across the intertubes before poker players far and wide began offering their takes on the WSOP's all-online bracelet hunt.
Yes, these are official bracelet events. The 85-event slate is split between the US and the international world: 31 events will be available on WSOP.com itself, one per day throughout July, while the other 54 events will be held on GGPoker.com, a newish partner of the WSOP. GGPoker's 54 events — also all official bracelet offerings — will begin on July 19th and run into the first week of September.
We'll get to the debate thing about "real bracelets" in a couple of paragraphs, but this all needs some context.
The WSOP began offering official online bracelets three years back, if I recall correctly, and in 2019 it offered nine such online events, a new high. These online events have been available only to players physically present in Nevada and New Jersey. Those same rules will remain in effect for the 31 WSOP.com events in July, though it's likely that a few hundred players from other states and countries will check in at Nevada or New Jersey hotels to play many of the online events.
As for GGPoker, it doesn't even accept US players, so the 54 events hosted there are designed for the international player base. Again, though, it's likely that at least a couple of hundred American players will take international vacations beginning between July 19th and August 1st, thus to continue competing for those prestigious WSOP bracelets.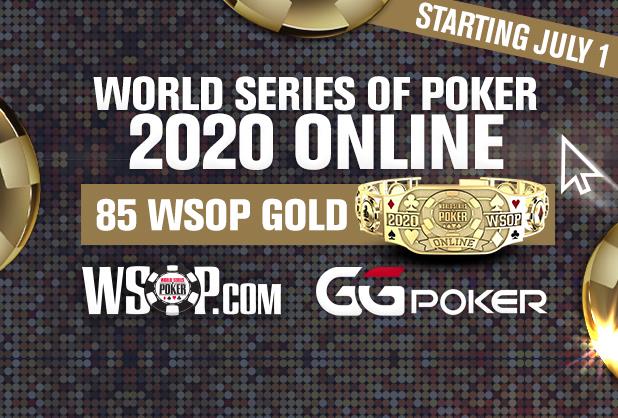 And, as an aside, it'll be really easy for WSOP to coordinate event registration for all the events between July 19th and July 31st, one a day on each of WSOP.com and GGPoker. Anyone who plays on both sites on the same day is VPN-ing and would be breaking the rules of one site or the other… in addition to those of the WSOP at large. (The maximum number of events any individual could play without breaking the rules thus appears to be 72.)
The problem with all this is that the odds are increasingly likely that there simply won't be a "live" WSOP in 2020, and that doesn't sit well with the large percentage of players who only play live and not online, particularly since neither WSOP.com or GGPoker offer mixed games or the many minor poker variants that help define the WSOP. This Twitter exchange between Daniel Negreanu and Dan Shak is typical:
I am very excited. Just made my plans for Mexico. What makes you think I'm lying?

I love the WSOP and I prefer playing an online version versus no version at all.

You just seem constantly negative. Smile pal.— Daniel Negreanu (@RealKidPoker) June 12, 2020
Think these are not great times in our country but no where near negative. Just think the Wsop without mixed games is no Wsop . They should have circuit events but bracelets not imo.— Daniel Shak (@daniel_shak) June 12, 2020
Note, of course, that Negreanu is a paid spokesman for GGPoker, so of course he's serving as a paid spokeshustler here as well.
Both sides of the "real bracelet" debate can make some great points, but the truth is that it's no debate at all. When the WSOP decided that online events merited real bracelets and would be tallied in official bracelet counts, the ship sailed. That was several years ago, and the WSOP isn't going to reverse itself here and gut the largest sales point of the only marketing vessel it has on hand to generate poker revenue this summer.
No matter what these purists want to think, 20 or 30 years from now no one will be caring whether a given bracelet was won live or online. They'll all count the same. That said, each and every player should recognize the cold truth here: Running the WSOP is a Caesars business, and moving the WSOP online (for now, at least) is a pure, financial, business decision. Having online events count for bracelets was a business decision in 2017, and it remains a business decision in 2020.
If Caesars and the WSOP didn't think it was more profitable for these 85 events to be official bracelet events, it simply wouldn't happen. It's the same thing as if the WSOP suddenly turned into a money-losing enterprise for a few years straight: Caesars would dump the WSOP like a hot potato. That's not likely to happen.
It's all well and good to glorify bracelets, but they exist today only within a profit-making framework. Sure, I'd absolutely love to win one, and I almost certainly never will. Yet even as I (or anyone else) would chase one of these, it's important to remember that these are expensive baubles designed for marketing and promotion. Purists and wannabes alike shouldn't lose sight of that. Purists in particular — and by this I mean mixed-games specialists — have always sought to highlight those events at the expense of more popular but simpler poker formats, a battle played out year after year in the WSOP's Player of the Year chase. Well, this year there likely won't be any POY race either, just like there won't be any mixed-games events. Deal with it, kids.
Yet it all fits within a larger context. The WSOP's 2020 online bracelets are and will be as real as any other. But the flip side of that is that any of these bracelets are only as "real" as the context in which they exist.