Sacramento-area poker pro Mike Postle, the central figure in a high-profile, $10 million civil case including allegations of cheating during dozens of live-streamed poker sessions from California's Stones Gambling Hall, has filed his initial legal response in the case.
The filing, dated March 24, 2020, was first published on the RounderLife website already closely linked to Postle. The filing also includes a motion to dismiss the complaint brought by dozens of other poker players who collectively allege that Postle cheated them out of hundreds of thousands of dollars during "Stones Live!" webcasts.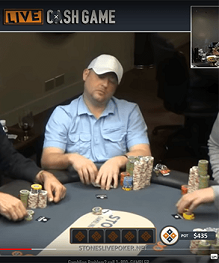 Postle's motion to dismiss joins similar motions to dismiss filed earlier this month by co-defendants Kings Casino, the corporate owner of Stones Gambling Hall, and Justin Kuraitis, a Stones employee alleged to have collaborated in as-yet-unspecified ways with Postle.
Postle's filing ends an initial period of delay in the case centered on plaintiff's difficulties in serving him a formal summons. Once served, Postle negotiated two extensions in filing his initial response, and this filing comes just before the expiration of the second granted extension. Of casual note is that the filing published by RounderLife is unsigned by Postle, who as of now continues to formally represent himself (pro se).
In this initial response, Postle echoes assertions made by Kings Casino (Stones Gambling Hall) and Kuraitis in their prior dismissal motions. Postle offers that the lawsuit "should be dismissed in its entirety because it fails either to state a claim upon which relief can be granted or to plead fraud with particularity."
Postle's filing expands on these initial assertions in later arguments. The response claims that plaintiffs' counsel has offered only "hypotheticals, speculation, and spurious statistical claims." The filing also asserts that "Plaintiff fail to describe any specific poker hand, with any specific Plaintiff, describing and specific fraudulent conduct. As a result, Plaintiffs utterly fail their pleading burden."
Analyses of specific hands and of overall statistical likelihood of cheating are both included in the original complaint in general terms, however, even if they have not been fully fleshed out to date in case filings. Discovery itself, as the case moves forward, may also provide additional pieces of the puzzle.
The primary attorney representing the plaintiffs, Maurice "Mac" Verstandig, declined comment when contacted by Kickass Poker. However, Verstandig posted the following on Twitter: "It is peculiar @RounderLife has obtained Postle's motion, filed "late this afternoon." Counsel were e-mailed copies earlier today; it has not been docketed, hence no clerical stamp appearing thereupon. I'll forbear from commenting on the motion itself."
No hearings have been set in the case to date.